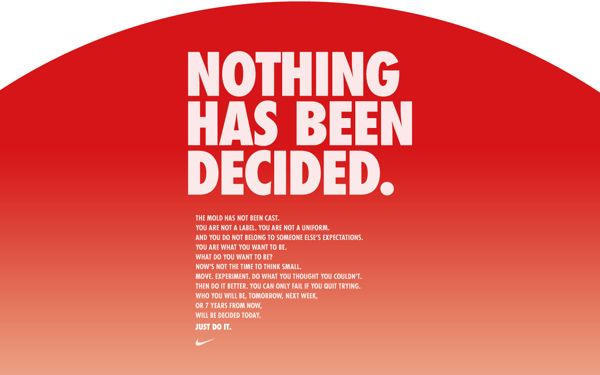 NIKE JAPAN SEVEN YEARS
On the day Tokyo was named as the site of the 2020 Olympics, we reminded Japan's youth that nothing has been decided yet. Directed by Mackenzie Sheppard.

NOTHING HAS BEEN DECIDED.
The mold has not been cast.
You are not a label. You are not a uniform.
And you do not belong to someone else's expectations.
You are what you want to be.
What do you want to be?
Now's not the time to think small.
Move, experiment, do what you thought you couldn't.
Then do it better. You can only fail if you quit trying.
Who you will be, tomorrow, next week,
Or seven years from now,
Will be decided today.
Just do it.